Intuitive Counseling with Te-Erika The Oracle
$150.00 – $799.00
You don't have to walk through this journey alone. Schedule a 30 minute intuitive counseling session to gain clarity and relief for your life.
Description
What's holding you back from being FREE and FEARLESS?
Are you afraid to lose? Afraid to win? Afraid to stop? Afraid to begin?
Te-Erika The Oracle is an Intuitive Counselor who helps women erase their fears and walk in power.
When you are ready to step out of the shadows and into the light of your brilliance, you don't have to walk alone. 
Intuitive Counseling With Te-Erika The Oracle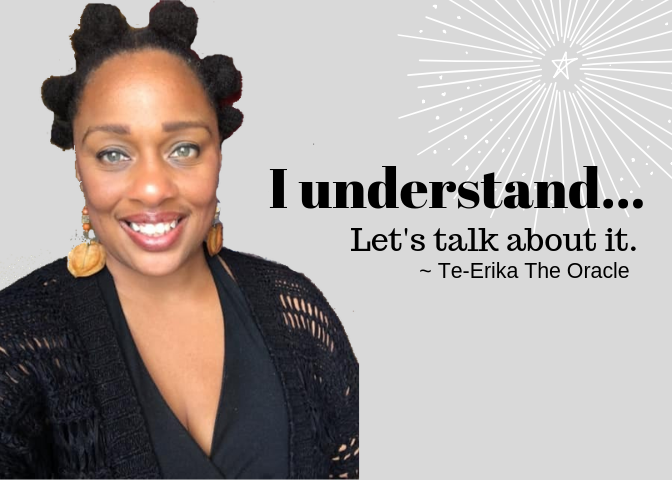 Chat With Me Privately To Gain Clarity, Relief and Understanding of Your Life's Challenges
I have dedicated my life to the practice of healing and empowering women. I use my gift of intuition to look into your life and circumstances and see the truth behind your pain and confusion.
When you meet with me privately we will spend up to 30 minutes discussing the important concerns on your heart and I will give you the relief and support you need to keep going and push through.
Schedule an Intuitive Counseling Session with Te-Erika The Oracle
Your session will be scheduled within a 7 day time frame or choose the RUSH Counseling session to meet within 24 hours.
We will meet privately via web conference for your counseling session. Your privacy is respected and treasured.
Topics Covered:
Fear of failure
Relationship issues
Trust issues
Grief
Family issues
Non-Traditional lifestyle choices
No topic is off limits!
Schedule a time to chat with me and find your relief TODAY!
Additional information
| | |
| --- | --- |
| Choose Your Program | 4 Session Counseling Program, Coaching By Email, Intuitive Counseling Session, RUSH Intuitive Counseling Session |